When onsite camping was introduced in 2003, the Coachella Valley Music and Arts Festival cemented its status as America's premier destination music festival. Prior to 2003, limited offsite lodging in the surrounding area meant fewer people could feasibly travel for the festival. With onsite camping, not only did thousands more visitors have an affordable place to stay, but also the foundation was set for the growth of the festival itself. For many, the labor involved with setting up and taking down one's camping gear makes attending only one day a bit of a waste, and with thousands of people coming from out of town and spending the entire weekend at the Empire Polo Club, logic dictates that camping was instrumental in Coachella becoming a three-day festival.
While onsite camping has always been cleaner and more comfortable than its European influences like Glastonbury, with its shower trailers and well-maintained portable toilets, it has evolved over the years just as the festival itself. The campgrounds were originally located across the street from the festival site in the lot south of the giant white structure that first-timers often mistake for the Sahara tent when driving down Monroe Street. Thanks to a legendary lineup featuring Radiohead, Kraftwerk, and the first announced Pixies reunion show, demand for camping drastically increased in 2004 as thousands more came from all over the world for this shining moment in live music history, and once the ticket supply for this "Camping Lot A" depleted, a second lot was added that also sold out before the big weekend arrived.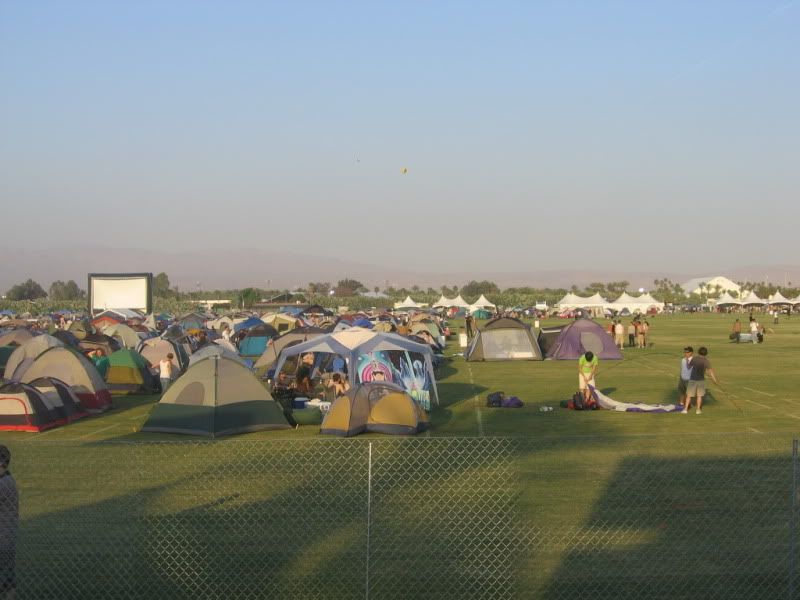 The inflatable movie screen made its debut in 2005.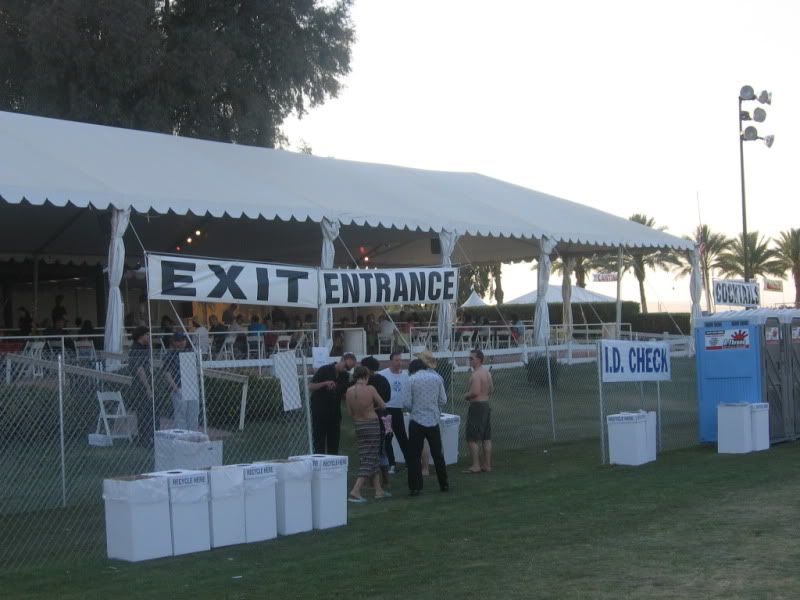 Onsite bar with karaoke on Thursday nights and breakfast in the mornings.
Now that Coachella had become a household name, camping moved to one large lot directly adjacent to the festival grounds in 2005. Onsite camping in 2005 featured the introduction of an inflatable movie screen, a karaoke bar, and free raffle prizes. While the convenience of not having to commute in the morning traffic was enough to entice many to arrive the night before, these bonuses served as special rewards for arriving early. Most people still drove to the festival every day, so having a significant number of people off the road helped ease traffic.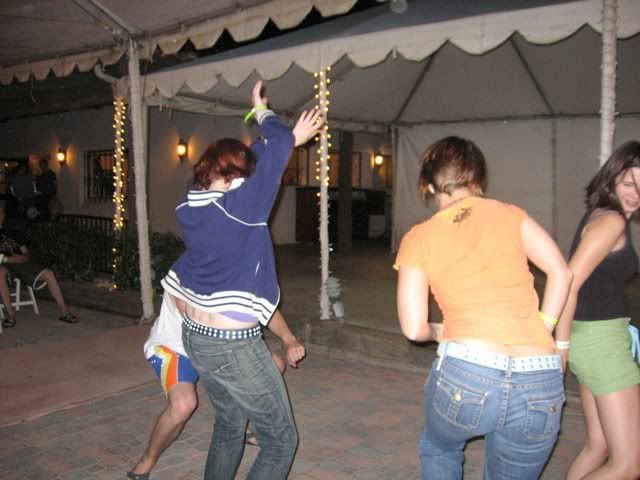 Coachellians dancing along to the beat of butchered classics.
Camping remained mostly the same in 2006, with the notable exception of an internet lounge sponsored by Dodge. This lounge featured computers available for free internet access, wi-fi, XBox 360 gaming, and lockers for securing laptops and other valuables during the weekend. Free internet returned in 2007 and has remained ever since, just in a different location, without the Dodge sponsorship, and now with outlets for cell phone charging.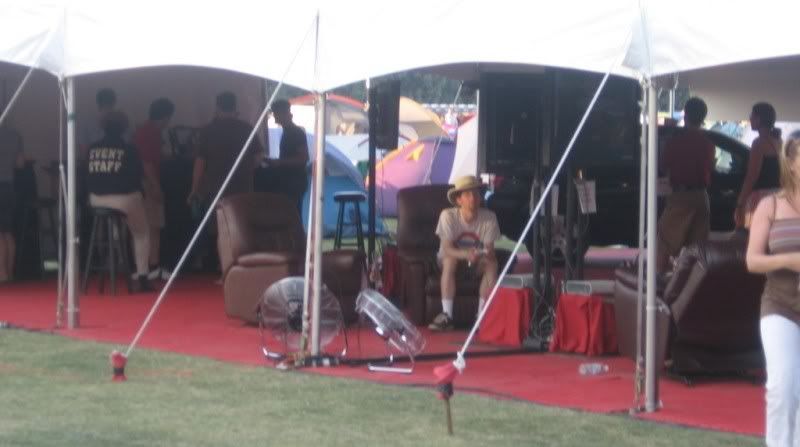 The first internet lounge in 2006.
Although several new additions became part of the camping experience in 2008, the only one that returned in subsequent years was the availability of onsite lodging. Accommodations in onsite lodging were in safari tents and included amenities such as beds, air conditioning, golf cart rides to the festival, and backstage access. Lodgings were also available in pre-pitched regular tents that came with the usual sleeping bags and pillows. The tents are no longer pre-pitched in 2010, but still offer a viable alternative to checking a lot of luggage when flying to Coachella. Onsite camping in 2008 also featured Laserium, a laser show set to the music of Pink Floyd, and
Coachella Express
, a free train ride from downtown Los Angeles to Indio.
On Coachella Express, traveling in style was redefined as attendees drank Corona's and danced in the aisles to live DJ's like Junkie XL, made new friends and hookups, cheered when passing the iconic desert windmills, received free shirts, ice cream, and VIP upgrades, and were greeted at the temporary Amtrak station with shuttles transporting them directly to the campgrounds, where their gear was already waiting for them. Unfortunately, Coachella Express proved to be a once-in-a-lifetime opportunity.
Even with a midnight curfew, the party never truly stops festivals like Coachella, Glastonbury, and Bonnaroo and in 2009, this phenomenon was enforced by the addition of a special dome featuring late-night sets by acts such as Flying Lotus for everyone camping onsite. Late-night sets will return this year, and it is currently unannounced if the "Pavillion at the Heart of the Coachella Campgrounds" will be the same dome and location as in 2009, and no acts seem to be playing on Thursday night this time.
The 2010 latenight sets.
Left to their own devices, even the Coachella attendees have evolved over the years. Fans of acts like Radiohead, Arcade Fire, and Depeche Mode have organized unofficial sub-camps, and other large camping groups that have formed over the years on the Coachella messageboard include "Party All Weekend" and "Camping All Alone/Solo at the Polo." In addition to camping groups, Coachella fans have proven their creativity and sense of adventure by taking it upon themselves to put on parades, spontaneous all-night singalongs, live music, and even slip-and-slides.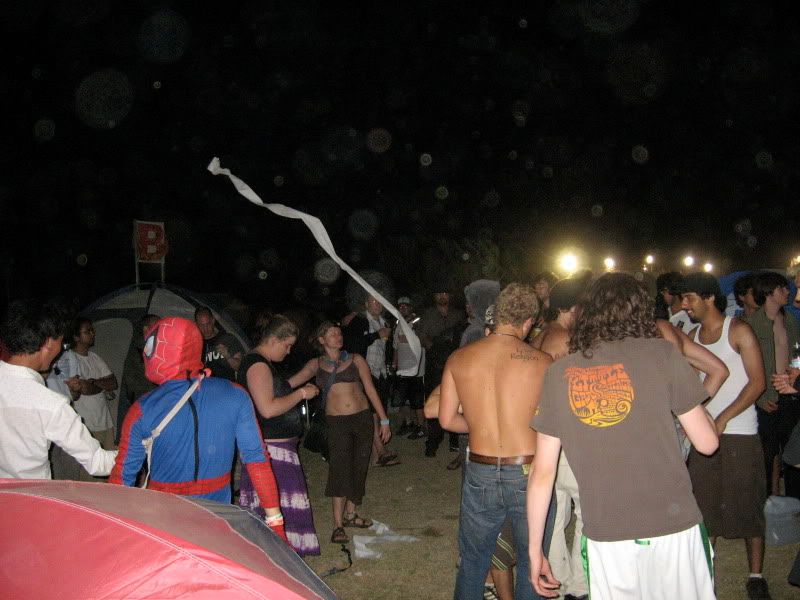 A small drum circle rapidly expanded to a mob of hundreds singing and partying all night.
Onsite camping at Coachella is about to experience its biggest change yet in the form of car camping. Eight thousand vehicles will be able to camp onsite, with no limit to the number of people per vehicle, and these $55 tickets sold out last week and have been scalped for over $800 on ebay. The car camping announcement of car pleased many, as hauling loads of camping gear across the fields is now thing of the past, and now several people can share a camping ticket and save money. Additionally, cars make it easier to lock away valuables during the day. However, some have been less than enthusiastic, primarily due to the new restriction on driving in and out of Coachella throughout the weekend and not being able to save a car camping spot for a friend arriving later. To help address these concerns, a companion parking lot with
limited
space will be available for campers meeting up with friends that arrived before them.
Besides the major fundamental changes, the added bonuses to the camping experience will be better than ever this year. A roller skating rink would be available to campers in what must be a first not just for Coachella but any festival. Keeping in line with this new retro theme, a pinball tournament with prizes will also be at the campgrounds at night. Festival goers will now have more outlets for their creativity besides elaborate camp setups and activities with the
Coachella Art Studio
, offering a wide variety of crafts ranging from wood shop to mushroom and zine creation.
Although details such as cost and hours are forthcoming, a shuttle to the nearby Ralphs will be available to campers for the first time this year. This shuttle to the local supermarket, with Mexican and Italian restaurants in the same shopping center, seems to be a response to concerns over not being able to leave the campgrounds until the festival is over. Even without a shuttle, campers will have a local farmers market onsite for the first time, in addition to the numerous food vendors people have come to expect over the years. After all, as Goldenvoice continues to find ways to evolve and innovate with Coachella, even in camping, what else can people truly expect year after year besides quality service and the formation of the fondest of memories?
Camping Trivia:
Instead of traditional event security, campers were searched upon checking into the grounds by local police in 2004.
Camping passes sold out in 2004, 2006, 2007, and 2010.
Safari tents were available for rental beginning in 2008.
Ready-to-go packages featuring tents, sleeping bags, pillows, and blankets were introduced in 2008.
The official Coachella site listed a surprise performer as being one of the bonuses for early bird campers in 2005, but was removed from the site a couple weeks before the festival. For whatever unstated reason, it didn't happen, and the most prevalent rumors were Beck and Queens of the Stone Age.
Raffle prizes have included VIP upgrades, camping ticket refunds, CD's, and a meet and greet with Depeche Mode.
The campgrounds are close enough for soundchecks to be fairly audible, and campers have been treated to hearing some music from acts like Portishead, Kraftwerk, Prince, Paul McCartney, and Rage Against the Machine before everyone else.
What movies were on the inflatable screen? Willy Wonka and the Chocolate Factory in 2005, Coachella in 2006, and The Song Remains the Same in 2007.
It was originally listed on the official site in 2004 that campers were to be assigned to specific spots of 50 square feet after signing in and leaving their name and contact information, but this did not happen until 2005. In 2007, the sign-in process was eliminated and camp counselors directed people to whichever spots were available in the areas being filled at that time.
Campers have had a separate entrance since the beginning. However, in 2005 and 2006, most people did not seem to know where it was, since the closest entrance to the campgrounds was actually the main entrance for everyone else. The camping and VIP entrance was past the trailers for will call tickets, and veterans from 2003-04 knew where to find it. In 2007, the camping entrance became incorporated with the campsite itself.
The price of camping in 2004? $25, plus surcharges.