10. Metric at Wiltern
After commanding the second stage to a massive crowd at last year's Coachella, the next natural step was clearly The Wiltern. At one point, Emily Haines listed off all the venues they had played in Los Angeles, from their days at the Silverlake Lounge to the present, and this progression of the band's history served as a perfect context to their Wiltern show. As Metric became bigger and bigger, their ability to mesmerize and rock the socks off the crowd has adjusted accordingly, and this night was no exception. With a performance as golden as Emily's sparkly dress, Metric kept the sold-out crowd of 2300 dancing and shouting along to a set that consisted almost entirely of their newest album
Fantasies
, and even included what Emily called their "Freebird": an acoustic singalong of "Live It Out", complete with singalongs and lighters, both real and digital, waving in the air. Was this arena rock moment foreshadowing a future where they fill such venues? Probably, so catch them now while you can still enjoy them with some degree of intimacy.
9. Bat for Lashes at Henry Fonda Theater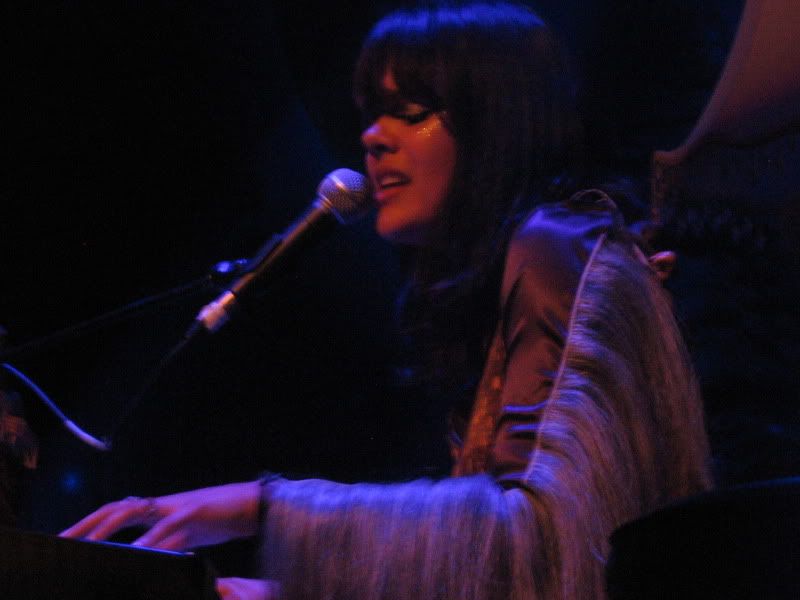 If a Bat for Lashes show had to be summed up in one word, it would be "magical." The whimsical weirdness of a backdrop of a wolf howling at the moon (to be replaced by a keyboard cat in 2010?), an other-worldly band playing instruments you didn't know existed, and Natasha Khan's overwhelmingly powerful voice that nails every note perfectly live even while dancing? All these elements combine to take the audience on an enchanting journey like no other. It also helps that the studio recordings are already intriguingly bewitching enough to do so.
8. Asobi Seksu at El Rey
Just as with their recorded material, Asobi Seksu is a force to be reckoned with live. As Yuki Chikudate's vocals soar, rather than getting lost in the wave of noise, one cannot help but to become completely entranced. In addition to being impressively gifted musicans, the band has a magnetic stage presence that is unique among their shoegaze and dream pop peers. Although
Hush
may be a departure from the wall of guitar noise, James Hanna still expertly works his guitar and pedals to flatten the crowd with reverb with the showmanship of a rockstar. Yuki, already having captivated the soul with her angelic melodies, captures the heart as she headbangs along to the beat, nonchalantly throws tambourines and bells to the ground, and takes over the drums and pounds them into oblivion at the end of their mini-holocaust of "Red Sea."
7. Leonard Cohen at Coachella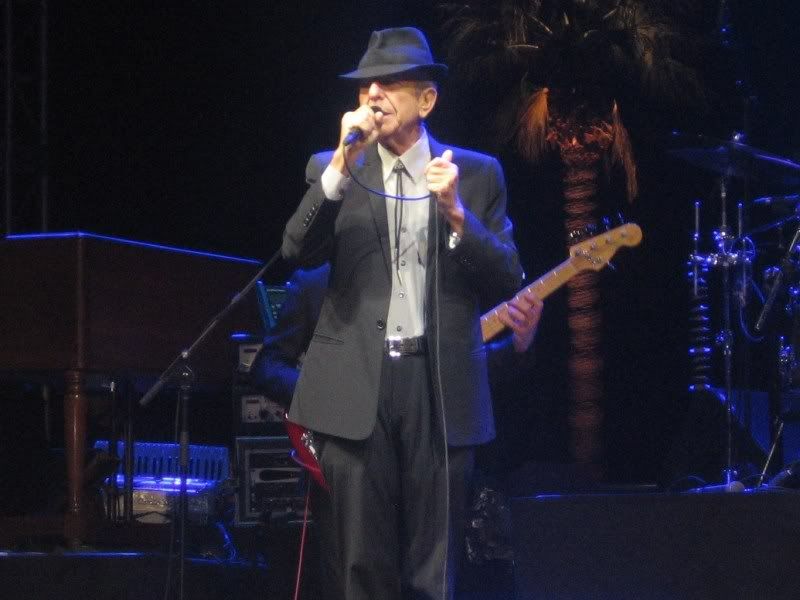 What else can be said that hasn't already? Leonard Cohen was a class act and he and his band and backup singers gave a perfect performance. Unfortunately, while singing "Hallelujah" with thousands of fans at dusk and surrounded by palm trees is a gorgeously spiritual experience second to none, with a discography as rich as Leonard Cohen's, one hour isn't nearly enough.
6. My Bloody Valentine at El Rey
Spirits were high at this last-minute Coachella warmup gig and how could they not be? Last year's reunion tour proved that the shoegaze gods are better than ever, and thankfully their show still felt fresh a year. Clearly My Bloody Valentine wants to feel, and not just emotionally but also physically. Their legendary "holocaust" at the end of "You Made Me Realise" is, in fact, as loud as everyone says, especially in a small theater with superb sound. The force unleashed by the speakers could be felt everywhere from the hair on the arms to the acid of the stomach. Hopefully it will not be another sixteen years before the next tour and that new material finally sees the light of day.
5. Neil Young at Glastonbury
Thanks to having never played during Glastonbury's 39-year existence and canceling a headlining set in '97, expectations were high for Neil Young's Glasto debut. Thankfully the legend did not disappoint. Young wowed the crowd with enough hits to please the crowd, while omitting enough to increase the desire to catch him again someday. He also peppered in enough extended versions and false endings and even destroyed his guitar strings at the end of "A Day in the Life", all without ever being an arena rock cliché. Hopefully some of the newer acts at the festival paid close attention to what it means to be a rock legend with dignity still intact.
4. Jarvis Cocker at Wiltern
As the legend took the stage busting some of his legendary dance moves and revealing his hands decorated
Pan's Labyrinth
-style and the crowd ate it up, his solo Los Angeles debut extinguished any remaining doubt that America is not ready for Jarvis Cocker. Sure, a lot of people might have been hoping for some Pulp songs, but everyone stayed to scream for a second encore that unfortunately never came. Nevertheless, everyone walked out of that theater properly entertained. And how can they not? Jarvis Cocker is the rare gifted performer who could read from the phone book and still be engaging.
3. St. Vincent at El Rey
With an album as richly layered and sweepingly orchestral as
Actor
, it is only natural to be curious as to how well the songs work in a live setting. Thankfully the talent and creativity of St. Vincent, a.k.a. Annie Clark, and her four-piece touring band not only pull off this seemingly impossible task but also go a step further and transform them, adding a new level of jaw-dropping intensity, so much that memories of "Just the Same but Brand New" are still haunting this reviewer over six months later. Clark's angelic, delicate voice serves as the perfect counter to her wicked guitar playing and watching her furiously shred and punch her guitar while jolting robotically is a spectacle in itself and a must-see.
2. Paul McCartney at Coachella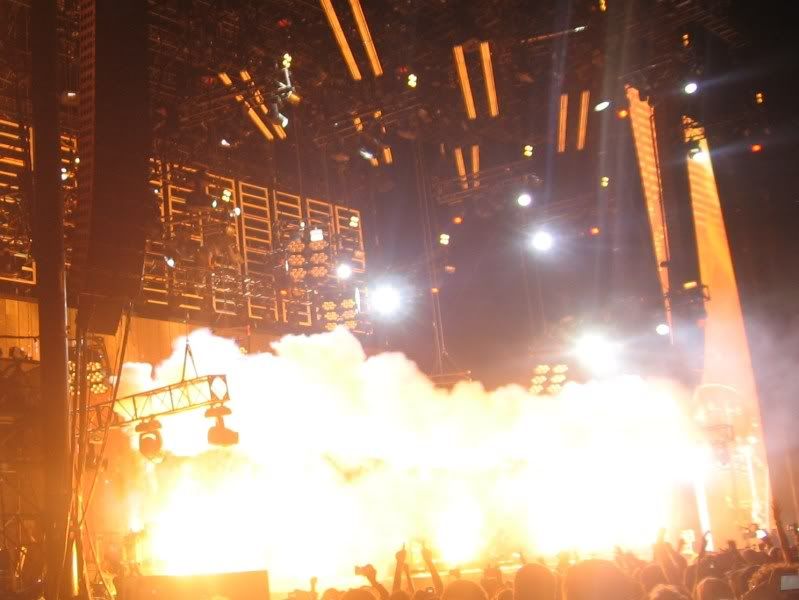 Paul McCartney is the perfect festival headliner. After all, how many acts have a back catalogue filled with a wide range of fan favorites and classic singalongs anywhere close to that of The Beatles? So why did it take so long for this to finally happen? Has he even played any other fests besides Glastonbury? What kind of acts would even be playing Coachella if it weren't for The Beatles? Would there even be a Coachella? In any case, hearing Sir Paul perform so many of the greatest songs ever written to a crowd of 60,000 people in the perfect environment for a production that included hundred-foot-high screens and fireworks was a magical time for all involved. Highlights of the two and a half hour set were not only the obvious favorites "Live and Let Die", "Helter Skelter", and "Hey Jude" but also the touching tributes to George ("Something" on a ukulele) and John ("A Day in the Life" into "Give Peace a Chance").
1. Blur @ Glastonbury
Glastonbury may not have been the site of the first Blur reunion gig, but it was definitely the emotional homecoming for the band. Blur's return to the Pyramid Arena proved that their music has aged remarkably well, thanks in part to a departure from Britpop and an exploration of other sounds, such as American indie rock, but also to the band themselves playing every song with the same energy that made them superstars over a decade ago. The truly legendary gigs tend to strike a chord with both the audience and the band, and in this case, the crowd instantly erupted into a frenetic mosh pit of positive vibes where people lost their inhibitions and pushed and sang along to the music out of love, not aggression or greed for a better spot, and hugged strangers out of sheer bliss. In response to the rapturous reception and the kind of perfect rapport between the crowd and band that comes only once every never, Damon eventually
broke down and cried
and
Alex declared it "the best gig we've ever done
." This reviewer experienced one of the most magical moments in his concert history as a group of people pulled him and other random strangers into a spontaneous arms-around-each-other circle and sang along at the top of their lungs to "Tender", which resurfaced during the encore breaks and again at the end of the night on the way back to the tent, a testament to the true power of live music.